When you get a chance, you need to see a moose.
I was seriously impressed the first time I saw a live moose. They are huge creatures averaging 900 pounds, with spindly legs and big old pendulous dewlaps. The bulls antlers are spectacular, though unwieldy-looking. I don't know how they balance such a structure on their heads, but moose seem to do all right.
Moose were on my list of animals I really wanted to see during my cross-country trip from San Francisco to Boston. I had seen many other large animals in and around the national parks: bison; big-horned sheep; elk; coyote; bear. By the end of my road trip moose were still elusive.
Moose are more skittish than some of the other large animals. Bison will have no problem scuttling right up to your car. Big-horned sheep will chew on grass right next to you as if you are a visiting cousin. Park regulations suggest that you back off, but in my experience the animal will make that your problem.
Moose on the other hand might not be so easy to spot. The easiest way to see moose is to head north to our friendly neighbor nation Canada, where the moose are bold and plentiful. However this book is about things to do in the U.S., so Ill share my advice for seeing good ol red-blooded American moose.
There are moose in the vicinity of Grand Teton National Park. However, the pressures of tourism on the park mean they more likely to spend time outside the park. I looked, so I can tell you, they are hard to find in the park.
I spent at least two hours looking for wild animals in this collection of bushes: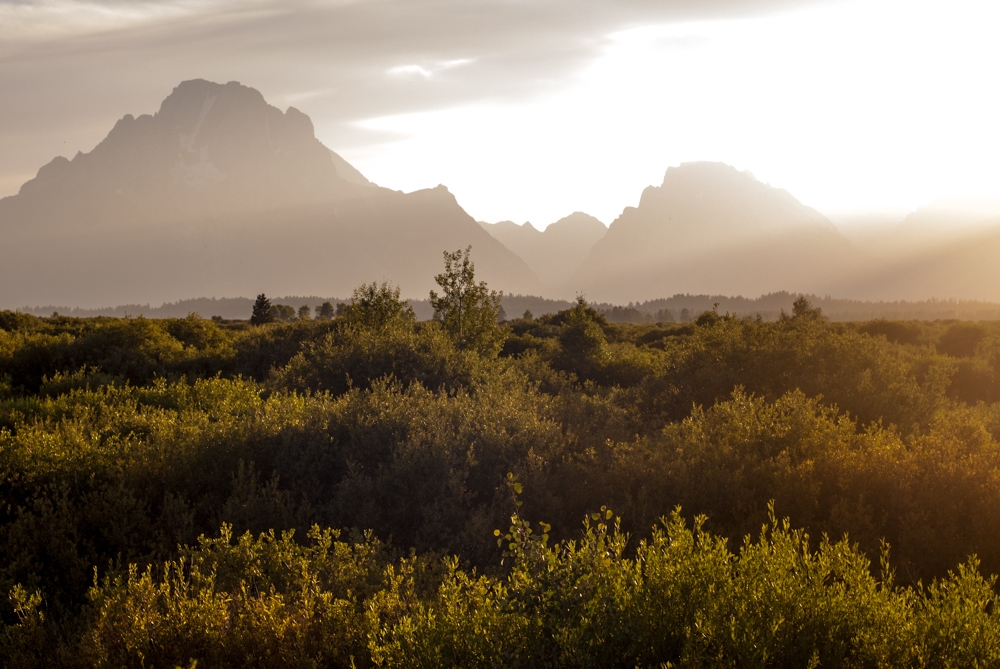 After just about giving up, I asked a naturalist at the park where to find the moose. She told me that the moose tended to gather at a spot southeast of the park, across from the river. They eventually come out to drink. I took this advice very seriously, and went to this spot to stake out the moose. I spent three long days waiting for the beasts to come out in the open.
When I got there a crowd had already gathered. L'enfer c'est les autres. I particularly recall one guy who was showing off his giant long lens. It was an impressive lens, definitely the right lens for taking wildlife photos. He wouldnt stop talking about his camera equipment. I dont know the guys real name, but for the purposes of this story his name is Golem. Everybody was impressed with Golems lens. Im sure it was very precious.
Fortunately I had patience on my side. Bugs also worked in my favor. The bugs came out at dusk, driving away the crowd. I went back to my motel at night and came back the next day. Fewer people milled about. Golem didnt last a day.
There was still no sight of the moose, but I persisted. By the third day everyone else was gone. However, there was still no sign of moose. It was getting dark. I was losing hope of getting a picture, but I just wanted to see some moose. Any moose at all would have made me happy.
And then they came! A bunch of moose! Including bulls! The grainy dark photo below is the best photo I could get, but you can see the outline of his antlers. I was ecstatic.
Bull moose outside of Grand Teton.
If you want to get a good photo, bring a long or fast lens. Ignore the chatty people, because they will dissipate after a day or two. Be patient and keep a lookout. The moose will eventually come to the water. Bring bug spray. If you still don't see a moose, leave the park. Also be sure to follow their seasons. The mating season happens in autumn and leads to more bulls out in the open.